NEW! Order your Galvez Medal Now!
Welcome to the Louisiana Society of the Sons of the American Revolution Website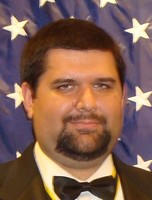 Gentlemen,
I hope this letter finds you all in good health and spirits. We are fast approaching Memorial Day, a day when we as Americans gather with our family and friends and remember those gallant men and women who served in this nation's armed forces, and who are no longer with us. Like many of you, I will be at a National Cemetery with my children placing flags on the graves of those men and women this coming weekend, and will lay a wreath as part of the Memorial Day ceremony at the Alexandria National Cemetery. I encourage you to send short articles and photos of your Memorial Day activities to Compatriots Fred Hamilton and Tony Vets for inclusion in the Pelican Patriot and the Louisiana Society, SAR website.
As promised, I am sending out a review of the program for this year. As many of you may remember, at the banquet last month I laid out three goals for all chapters. These goals are:
Participate in at least three youth awards programs (by sponsoring an individual in the orations contest, Eagle Scout . Scholarship contest, poster or brochure contest, essay contest, American History Teacher Award contest, or by recognizing an individual with a JROTC/ROTC medal). This is due by the Annual Meeting in 2017.
Support our veterans by participating in the Stark Award. Each chapter was given the goal of gaining 18 points per member at the start of 2016. To simplify that, each chapter must submit the following points by the end of this year to our Veterans Committee Chairman.
Finally, each chapter was given the goal of raising their membership by 3%, based on their numbers at the start of 2016. That means that each chapter must have a total membership of the following:
Please remember that this is not a competition between the chapters. However, I will personally recognize each chapter that meets all of these goals at the next annual meeting and banquet. The best of luck to all of you.
Respectively,
Tony L. "Bo" Vets II
President Louisiana SAR
---