Young Artist Wins Poster Contest - Presented Prize (May 13, 2013)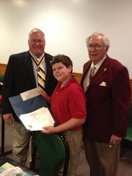 During the May meeting of the Benjamin Tennille Chapter of Sons of the American Revolution, Louisiana Society President Steve Ray and Chapter President Fred Huenefeld awarded the State Poster Contest winner, Mr. Warren Presley, a 5th grader from Sallie Humble Elementary School in Monroe, a $100 check and certificate for his winning entry for this year's poster contest theme of "The Declaration of Independence". Mr. Presley's entry will now represent the State of Louisiana at the contest held by the National Society of the Sons of the American Revolution during their Annual Congress in Kansas City, Missouri in July. The National winners will receive a Rosette Ribbon with the 1st Place, 2nd Place and 3rd place winners receiving a monetary award funded from the Americanism Trust Fund.

Pictured l to r Steve Ray, Warren Presley, Fred Huenefeld


---
Attorney General is Special Guest at George Washington Banquet (February 17, 2013)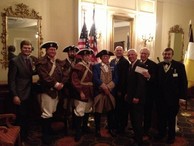 Louisiana Attorney General Buddy Caldwell was the guest speaker at the Benjamin Tennille Chapter's Annual George Washington Banquet at Bayou DeSiard Country Club. Caldwell gave a presentation titled "What's the future for Louisiana."

Pictured are Hamilton Winters, Steve Ray, Gerald Graves, Ted Brode, Jim Miller, Eddie Emory, Buddy Caldwell, Fred Huenefeld and Dr. James Morock.

---
History
The Northeast Chapter of the Sons of the American Revolution held an organization meeting on March 7, 1971 at the Lotus Club in downtown Monroe. Austin Smith was elected President and a petition for a charter that would include applicants qualifying for membership by July 1, 1971 was submitted for approval. On May 18, 1971 the charter was granted and was issued on August 16, 1971. Thirty-eight members were deemed Charter Members.

The chapter changed its name to the Benjamin Tenille Chapter and has frequently lady wreaths at the grave of Tenille, one of the few known Patriots buried in Northeast Louisiana. His grave is in the Tenille Cemetery, located on DeSiard Street on the east side of Monroe.