Stay Current
To keep up with the many events of the General Philemon Thomas Chapter, read the current issue of
Red Stick Patriot
.
LTG Russel Honore Honored At Constitution Day Banquet (September 18 2015)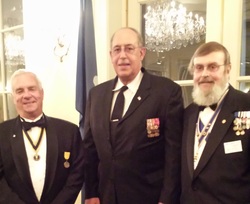 Lieutenant General Russel Honore received SAR Gold Good Citizenship Medal at Constitution Week Banquet held at the Baton Rouge Country Club.

Honore was named commander of Joint Task Force Katrina on August 31, 2005 and was charged with leading the military relief efforts after Hurricane Katrina devastated the Gulf Coast. He retired in 2008 after 37 years of outstanding service to his country, but the weeks served in the New Orleans area in the fall of 2005 will forever put him the the hearts of his fellow Louisianians.

(Pictured left to right, State President Jerry Haynes, LTG Russel Honore, Past Southern District Vice President General James A. Morock Sr)
---
George Washington's Birthday Celebrated (February 22, 2013)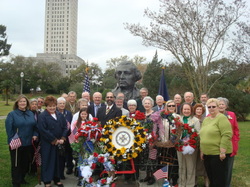 Members of numerous historical organizations gathered at the bust of George Washington to lay a wreath and remember our first president.
---
Constitution Week Dinner (September 21, 2012)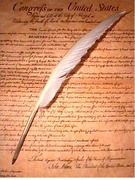 The General Philemon Thomas Chapter held its annual Constitution Week Dinner Friday evening, September 21st, at the Baton Rouge Country Club, 8551 Jefferson Highway. East Baton Rouge Parish District Attorney Hillar C. Moore, III addressed the assembly with a speech entitled "The Longevity and Stability of the United States Constitution". During this banquest, several awards were given. The SAR Martha Washington Medal was presented to Nancy McCart Bickham for her outstanding service as LSDAR State Librarian. The Bronze CAR-SAR Medal of Appreciation was awarded to Jacqueline Lard Johnson for her dedication to the Children of the American Revolution and leadership she provided while serving as the South Central Region National Vice President 2010-2012. Don Parks was presented the Robert E. Burt Boy Scout Award for his outstanding volunteer service to the Boy Scouts of America.
---
Wreath Laying Ceremony (May 26, 2012)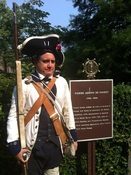 The General Philemon Thomas Chapter held a Memorial Day Wreath laying Ceremony in Baton Rouge at the Historic Highland Cemetery. At least two Patriots are buried at Highland Cemetery, Pierre Joseh de Favrot and Gabriel Armand Allard DuPlantier. Both of these graves were marked by the chapter in 2011. They were joined by members of the DAR and CAR in this annual event.

Pictured is Compatriot Paul Bergeron

---
Law Enforcement Medal posthumously awarded (May 7, 2012)
Sgt. Paul Stuckey was awarded the SAR Law Enforcement Commendation Medal posthumously at the May 7 meeting. Sgt. Stuckey was a game warden and was killed by lawbreakers while on duty.

Jerald Horst gave a very interesting talk about the seafood industry and also about game wardens. Horst is a former Professor of Fisheries at LSU.

It was also reported that the GPT had awarded 16 High School ROTC medals and four college level ROTC medals in the 2012 school year.
History
In 1946, the Baton Rouge Chapter, SAR was organized. It fell into inactivity in 1955. In 1963, the chapter was reformed and designated the General Philemon Thomas Chapter, with Lewis Stirling Doherty, Jr being elected its first President. The chapter was formally installed on April 12, 1964 with thirty four Charter Members.