ASH Cadet Receives SAR Award (April 13, 2017)

Vice President Mike Sawrie presented the Bronze JROTC Award to C/Capt Ethan Myatt at Alexandria Senior High. The Bronze JROTC Award. The Bronze JROTC Medal was authorized in 1965, and is presented only to students in secondary school JROTC and no recipient may receive it more than once. ​
Chapter Members Participate In Memorial Day Activities (May 28-30, 2016)
On Saturday, May 28th, State President Bo Vets and his two son, Junior Members Jackson and Benjamin Vets, as well as Past State President Tony L. Vets placed flags on the graves in the Alexandria Veterans Cemetery. On Monday, President Vets participated in the Memorial Day ceremony and presented a wreath on behalf of the Louisiana Society.
New Officers Installed (January 17, 2015)
Compatriot Patrick William Ryan of Bunkie took the gavel honors from outgoing president Dr. James A. Morock at the January meeting held at Copeland's in Alexandria. Avoyelles Parish District Attorney Charles Addison Riddle III was one of two new members inducted and also served as guest speaker, giving an informative presentation on our National Anthem, the Star Spangled Banner. LASSAR President Bob Hess was on hand for the activites and swore in the new officers.
SAR Flag Certificate Awarded (November 18, 2014)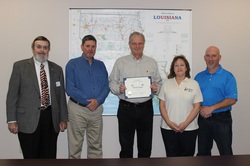 On November 18, 2014, Enemund Meullion Chapter President James A. Morock, Sr., M.D., presented the Sons of the American Revolution Flag Certificate to Mid-State Supply Company for their patriotic and proper display of the U.S. Flag.

Pictured from left: President Morock, VP Mike Erwin, Company President Eddie Milliner, VP Lisa Blair, and VP Junior Hebron.
---
Chapter Hears From Iwo Jima Survivor (September 20, 2014)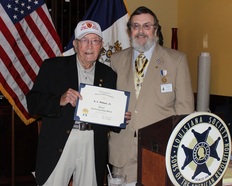 At the September 20, 2014, meeting of the Enemund Meullion Chapter Sons of the American Revolution, President James A. Morock, Sr., M.D., awarded WWII Veteran A. L. Wilson, Jr. (left) the SAR Bronze Good Citizenship medal and certificate, and the SAR Good Citizenship Pin, for his service to our country.

Mr. Wilson was the guest speaker, outlining his service in the Pacific Theatre, including description of the Battle on Iwo Jima.
---
Chapter Members Participate in Flags In Activities (May 24, 2014)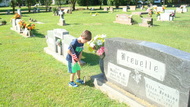 Tony L. "Bo" Vets II and his son Jackson, both members of the Enemund Meuillion Chapter placed flags on over 150 graves at the Alexandria National Cemetery in Pineville, LA.

Bo and Jackson then returned to Colfax to place flags on the graves of friends and family, including WW II veteran Walter C. Brevelle, Bo's grandfather
---
Eneumund Meuillion Officers Installed (January 18, 2014)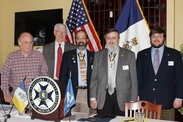 Vice President Pat Ryan gave a presentation about his patriot ancestor Philip Key, a Representative of Maryland and uncle to Francis Scott Key, the author of our National Anthem "The Star-Spangled Banner." President James Morock presented him with a Certificate of Appreciation.

Jason Chisolm received a War Service Medal and a Certificate for his service in the War on Terrorism.

Prospective member Col. William Price received a Flag Certificate for his proper display of the American flag on his property.

Peter Couvillon was presented with his new member certificate.

Tony L. Vets was presented with a Certificate of Appreciation for his years of service to the Enemund Meullion Chapter.

Registrar David Manning, Vice President Pat Ryan, LASSAR Trustee Tony Vets, President James Morock, and Secretary Brent Morock were installed as 2014 Officers.

---
Three New Members Inducted (November 16, 2013)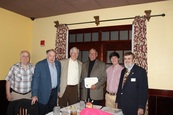 Three new members were inducted into the Enemund Meuillion Chapter at the November 2013 meeting.

Hardin Lewis is a descendant of Jacob Kelly, who served as a solider under Col Clarke in Georgia. Dr. Peter Couvillon is a descendant of Richard Graham of Virginia, who served as a Member of the Committee of Safety. Graham Maxwell is a descendant of Uriah Chapman Jr of New York, who served as a Private under Capt Abraham Westfall and Col Albert Pawling.

Pictured: Dave Manning, Hardin Lewis, Pat Ryan, Peter Couvillon, Graham Maxwell, James Morock.


---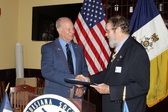 Those in attendance were also treated to a brief telling of the origins of our National Flag by special guest Truman Maynard, Secretary of the Natchitoches Chapter, LASSAR. Maynard told of the history of the flag and and how it became an icon following the defense of Fort McHenry in 1814. President Morock presented a Certificate of Appreciation to Truman following his speech.


---
Grant Parish Sheriffs Deputies Recognized (October 19, 2013)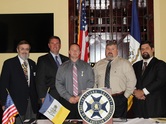 Five members and two prospective members of the gathered at the grave of Enemund Meuillion in Rapides Cemetery, where Chapter President Dr. James Morock gave a brief biography of Meuillion. After an appropriate ceremony and the placing of a wreath, the assembly then retired to Copleands for the regularly scheduled meeting.

There, an overflow crowed had gathered to recognize Deputies Frankie Coleman and Preston Lyles of the Grant Parish Sheriffs Department. Past Chapter President Tony L. "Bo" Vets II introduced Grant Parish Sheriff Steven McCain who gave a passionate talk about the work of the Grant Parish Sheriff's Office and the accomplishments of Deputies Coleman and Lyles. McCain said that when he took office, he assigned these two officers to focus on the drug problem in Grant Parish. The efforts of these two officers has led to the departments success of taking drugs off the streets in Grant Parish with over 30 drug dealers taken off the streets of Grant Parish in the last 10 months. Both men were awarded the SAR Law Enforcement Commendation Medal.

Pictures left to right: Dr. Jim Morock, Sheriff Steven McCain, Deputy Frankie Coleman, Deputy Preston Lyles, and Tony L. "Bo" Vets II.
---
Oliver Pollock Discussed at Chapter Meeting (July 20, 2013)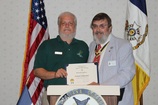 Guest Speaker Richard H. Holloway was the guest speaker at the July meeting. Holloway, President and Program Director of the Civil War Roundtable of Central Louisiana, gave a presentation titiled "The Enemy of My Enemy is My Friend: Oliver Pollock and Bernardo de Galvez in the American Revolution." He talked about the history of Oliver Pollock, especially about Pollock's relationship with Bernardo de Galvez.

---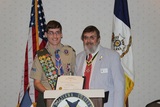 In addition to hearing from Holloway, Eneumnd Meuillion Chapter's 2012 Eagle Scout Competition Winner Luke O'Quinn was on hand to receive his prize, consisting of a certificate, medal, badge, and a $100 check.
---
Chapter Presents Wreath at Veterans Cemetery (May 27, 2013)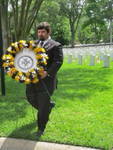 Members of the Eneumund Meuillion Chapter attended and participated in the annual Memorial Day ceremonies held at the Alexandria National Cemetery in Pineville, LA. COL Barrette Byrd, USMC (Ret) was the featured speaker, reminding those in attendance of the service and sacrifice of those buried there and marked and unmarked graves around the world.

At the conclusion of the ceremony, wreaths were presented by various organizations. This year, past Enemund Meuillion Chapter President and current LASSAR State Historian Tony L. "Bo" Vets II presented the wreath.


---
Members Participate in "Flags In" (May 25, 2013)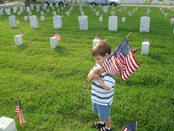 Members of the Enemund Meuillion Chapter participated in the time honored tradition of "Flags In", honoring American's fallen hero's by placing flags before the gravestones of service members buried in Alexandria National Cemetery, Pineville, LA.

Pictured: Jackson Joseph Vets, Junior Member


---
Officers Sworn In For New Term (January 26, 2013)
The first meeting of 2013 saw the Enemund Meuillion Chapter award public servants for their good works in the community.

Rapides Parish District Attorney James C. Downs received the Bronze Good Citizenship award for his long and faithful service to Rapides Parish. Don Brevelle, Joseph Frank, and Robert White were all awarded the Fire Safety Commendation Medal for their service in Avoyelles Parish.

After the award presentation, longtime supporter and prospective member Charles Neal gave a presentation on the various flags our country and state have used. This was highlighted with his rendition of songs or poems of the era.

Following the meal, State President Tony L. Vets had the honor of addressing the members then installed the chapters officers for the 2013 term.

Picured below: Chapter President James Morock and James Downs; Don Brevelle, Robert White, Morock, and Carlos Mayeaux; Jack Sleet and Charles Neal

---

Awards Presented at November Meeting (November 17, 2012)
At the November meeting of the Enemund Meuillion Chapter, President James Morock presented Chief Daren Coutee with the Law Enforcement Commendation Medal. Coutee is the former chief of the Alexandria Police Department and a descendant of Claude Thomas Pierre Metoyer as well as other Patriots of the American Revolution. Dr. Harris Poret was inducted into the chapter. Poret is a descendant of Antoine Bordelon, who served as served as Assistant Regimental Adjutant (Aide Major) of the Pointe Coupee Militia under Galvez during the American Revolution. Compatriot John Kennedy received the War Service Medal. Kennedy has recently returned from combat operations as part of the Global War on Terrorism.

Pictured below: Daren Coutee, Harris Poret, John Kennedy

Chapter Meets To Commemorate Founding (October 20, 2012)
Members of the Enemund Meuillion Chapter met to celebrate their 30th anniversary. The meeting started, appropriately, at the grave of Enemund Meuillion in Rapides Cemetery, where Chapter President Dr. James Morock gave a brief biography of Meuillion. The assembly then retired to Cajun Landing for the regularly scheduled meeting. There, guest speaker Dr. Patsy Barber gave a presentation on her book "World War II Veterans – Speaking From The Heart", interviews she gathered from those who served during the war. Dr. Barber told brief stories of three of her subjects. Alvin Pitts then gave a description of the founding of the Enemund Meuillion Chapter.

Charter members in attendance included Dr. James DeLee, Dr. James Morock, Alvin Pitts, and John Sleet.


History
In 1982, an effort was made to form a chapter of the Sons of the American Revolution in Alexandria. Philip M. Sleet Sr, St. John Chilton, James DeLee, and ladies of the Loyalty Chapter, DAR, worked to find new and existing members for this new chapter.

On October 29, 1982 the Organization Meeting of the Alexandria Chapter was held in the same room that 75 years earlier the Loyalty Chapter, DAR was formed. At this meeting State President Edward Overton Cailleteau signed the new chapters' charter. roty Seven men were charter members of the Alexandria Chapter and after the signing of the charter, the first election for officers was held. Phillip Sleet Sr was unanimously elected President, Colonel Edgar Hendership, 1st Vice President, Dr. James DeLee, 2nd Vice President, Dr. St. John. P. Chilton, Genealogist, and Alvin L. Pitts, Secretary-Treasurer.

Below is a list of Compatriots who have served as Chapter President, along with year installed in office.

Phillip H. Sleet, Sr 1982
Edgar Hendershot 1985
Robert H. Pittman 1986
Rhorer J. Texada 1988
Dr. James DeLee 1990
Andrew Moore 1992
C. Willard Spivey, Jr 1993
Milton E. Ailes 1996
Phil Eisenwinter 1997 *
Gary Grand 1998
Dr. James A. Morock 2007
Tony L. "Bo" Vets, II 2010
Thomas Ebarb 2011**
Tony L. "Bo" Vets, II 2011
Dr. James A. Morock 2012

*During the Eisenwinter administration, it was decided that the name should be changed to honor Enemund Meuillion, whose grave is located across the river in Rapides Cemetery, Pineville.

** Thomas Ebarb was elected and served as president for one month before being transferred to Kentucky. Vice President Bo Vets was served out the remaining term.

With dwindling membership, the chapter suffered from inactivity. In July 2007, Dr. James A. Morock and Tony L. Vets contacted State President John Johnson and Secretary Bill Allerton for guidance in re-establishing the chapter. Morock and Vets were named President and Secretary respectively and former members were contacted. On September 27, 2007, the Enemund Meuillion Chapter held its first meeting in several years.