LASSAR Plans 2015 Annual State Meeting Celebrating The 125th Anniversary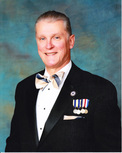 Happy New Year! It is hard to believe that we are three-quarters of the way through the Hess Administration. Thank you for the support you have shown me, it has been such an honor to visit with all the chapters either at a monthly meeting or a special event to learn of all your projects, activities and youth award programs that you sponsor. I wish to thank each chapter for your kind generosity and hospitality that you have shown me and Katherine as we have made our way across the state.
We are eagerly awaiting our State Annual Meeting, April 24-25th in Lafayette. The Attakapas Chapter will be our hosts and the Executive Committee is hard at work planning a wonderful experience for all of us. Do make plans to attend, as this is such a wonderful opportunity to visit with friends from across the state and celebrate all that has been accomplished in 2014. Please read carefully this edition of the Pelican Patriot for all information regarding the 2015 LASSAR State Annual Meeting.
Without a doubt, I know you will give our conference guests a warm Louisiana welcome! We will have Compatriots visiting from Alabama, Mississippi, Tennessee and Texas. There is so much to look forward to in 2015. Come, be a part of your state society this April 24 – 25th in Lafayette. I hope to see you there.
Sincerely,
R. G. Hess
LASSAR President
Click
HERE
to read the full plan for the LASSAR 2015 Annual Meeting.
Click HERE to open a pdf map of Girard Park, site of the Friday night reception.
Click
HERE
to open the LASSAR 2015 Annual Meeting Reservation Form.
---