Three Generations of Guilbeau Family Join the Attakapas Chapter (November 15, 2017)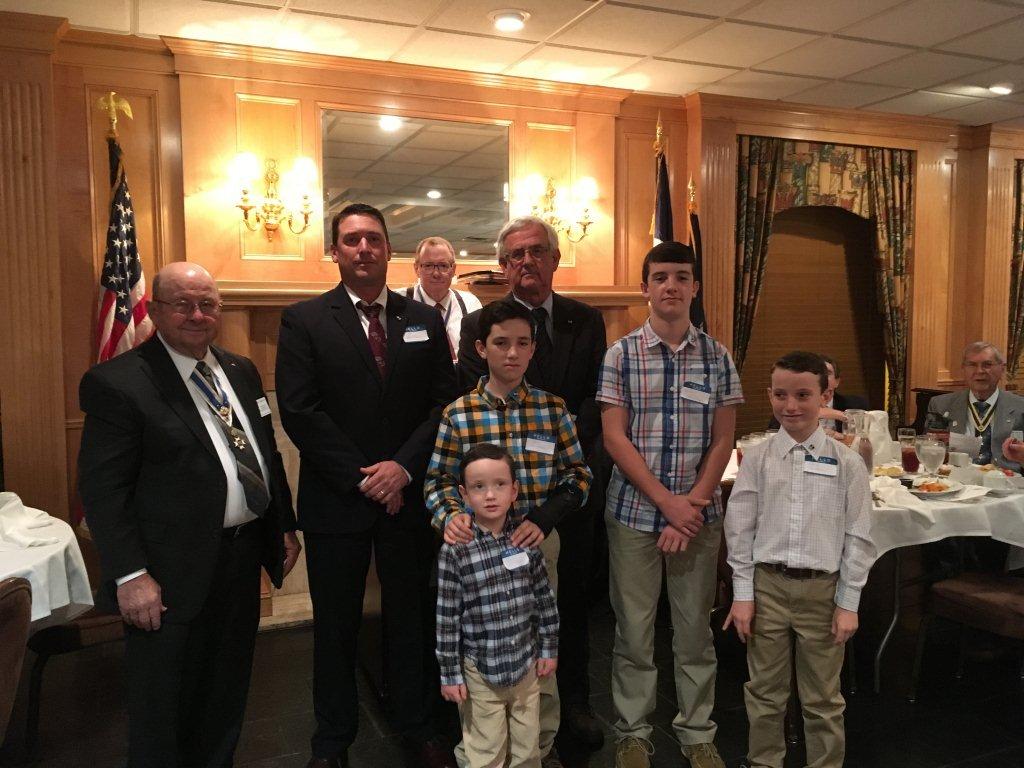 ​On 15 November 2017, three generations of the Guilbeau family were inducted into the Attakapas Chapter at Lafayette, LA. The patriarch, Larry J. Guilbeau, his son, Todd J. Guilbeau, and his four grandkids, Grant J. (14), Gavin J. (12), Gage M. (8), and Garron M. (4), were sponsored by Compatriot Anthony R. Romero (left), of the Attakapas Chapter

The close-knit Guilbeau family lives in the area of Cecilia and Arnaudville in southwestern Louisiana. The Guilbeaus are descendants of their Patriot ancestor, Charles Guilbeau of Acadie, Canada, who was deported by the British in the 1750's from his homeland (like thousands of other Acadians) for refusing to take the Oath of Loyalty to England during the French and Indian War, and for refusing to give up his Catholic faith.

Charles Guilbeau, after many, many hardships, found his way to Louisiana where he settled and raised his family in what was then known as the country of the Attakapas. This area is located along the Teche bayou in southwestern Louisiana, and the center of it is today St. Martinville, in St. Martin parish.

Serving in the Attakapas Post militia as a loyal subject of Spain, his unit was called to duty in August of 1779 following Spain's declaration of war on England. His and other Louisiana militia units under the command of General Bernardo de Gálvez, Governor-General of the Spanish province of Louisiana, launched an attack on the British outpost at Baton Rouge, and after a well-orchestrated siege, forced its surrender.

​You may well believe that Charles Guilbeau must have felt a savage kind of glee in this action, as did other Acadians in Louisiana's militias. Today, many hundreds of Acadian descendants in Louisiana and elsewhere are members of, or potential members, of the SAR and DAR as the result of their patriots having fought against the English in 1779-81 in Louisiana and in Florida.
---
JROTC Awards Presented (April 30, 2016)
Youth Awards Presented (February 20, 2014)
Two youth awards were presented at the February Meeting of the Attakapas Chapter. Jacob LeBlanc, was judged the winner Chapter Eagle Scout Scholarship Contest. Jacob is a graduating junior from Lafayette High School and a member of Troop 156 in chartered by St. Mary's Catholic Church in Lafayette. Award presented by Eagle Scout Chairman Michael Lundsford.
Mary Francis Johnson was judged the winner Chapter Orations Contest. Miss Johnson is a student from John Paul the Great High School in Lafayette. Miss Johnson was last year's LASSAR state winner and represented LASSAR in Kansas City at the national congress in July. Award presented by Orations Contest Chairman Tom Angers.
Also, Compatriot John Francois received the
Chapter Distinguished Service Medal
for his long and faithful service to the chapter. Award presented by chapter President Bob Hess
Flag Certificate Awarded to Local Company (November 14, 2013)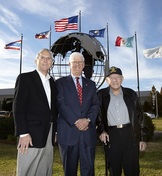 Three members of the Attakapas Chapter visited Stuller Inc to present the SAR Flag Certificate to Jay Jackson, President and CEO of Stuller.

Stuller is headquartered in Lafayette, LA, and was founded by Matthew Stuller in 1970. The DTC Sightholder provides a wide range of goods and services for jewelry professionals. Stuller's core product categories include: diamonds, gemstones, finished jewelry, mountings, findings, bridal jewelry, tools, supplies and digital solutions.

The United States flag, a focal point in the flag display at the entrance of Stuller's Rue Louis location, was installed in 1999 when the company expanded operations there. Alongside Old Glory are several additional flags including those counties in which Stuller conducts business and community institutions in which the manufacturer supports.

"Matthew Stuller, our founder and chairman, developed a deeper love and appreciation for our country through scouting where he achieved the Eagle Scout rank," says Jay Jackson, Stuller president and CEO. "And it was through scouting that he learned about the proper presentation and care of the United States flag."

Matt and his company show their patriotism in a number of ways.

"Our quarterly company meetings begin with prayer and the Pledge of Allegiance," continues Jackson. "Additionally, any foreign associate who earns their United States citizenship is presented with a United States flag that has flown over the capital in Washington, D.C."

From Left to Right: Compatriot Bill McCain, Attakapas chapter flag and patriotism committee co-chair; Jay Jackson, Stuller President and CEO; and T. J. Fontenot, Attakapas chapter flag and patriotism committee co-chair.


---
Presidential Honor Guard Member Speaks (September 20, 2013)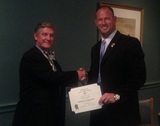 The Attakapas chapter was honored to have Daniel Bentley as their guest speaker for the September 2013 meeting. Mr. Bentley is retired from the United States Army where he was a member of "The Old Guard" at Arlington National Cemetery. Mr. Bentley distinguished carrier included assignments to the elite Presidential Honor Guard under President Ronald Reagan. He served on several high level security teams, including, Pentagon security detail for Secretary of the Army John O. Marsh, foreign dignitary security detail for Soviet Union President Mikhail Gorbachev, and foreign dignitary security detail for British Prime Minister Margaret Thatcher.

He currently is the public relations officer for the American Legion Post 69 in Lafayette and is owner of Beausoliel Investigations and Consulting, a local private investigation company.

Two new members were welcomed into the chapter. Michael Lunsford and his father Lawrence Lunsford, were inducted as new members. They are descended from Rodham Lunsford Sr, of Virginia who served as an Infantryman.

---
Former DA Speaks to Chapter (May 16, 2013)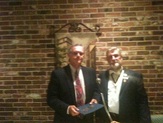 Keith Stutes, former Lafayette Parish Assistant District Attorney, was the special quest of the Attakapas Chapter. Stutes spoke of some of the high profile cases he prosecuted over his career. These included the 1996 case of Dr. Richard J. Schmidt, who was convicted of injecting his girlfriend with blood from an AIDS patient, as well as the 2012 Mickey Shunick case, which garnered national attention.


---
Local Author is Guest Speaker (April 18, 2013)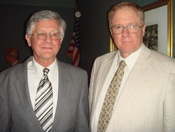 Trent Angers is executive editor of the Acadiana Profile Magazine, book editor, and author. He spoke in general about his work, touching on several books he has written and the people he interviewed. Trent has written and/or edited over 60 books during his career as a journalist including a book recently published regarding General Honore who brought order to the City of New Orleans after Katrina. He also wrote the book "The Forgotten Hero of My Lai: The Hugh Thompson Story", which was featured on 60 Minutes with Mike Wallace.

Pictured Trent Angers and Chapter Vice President Mike O'Brien


---
Chapter President Participates In Wreath Laying (February 22, 2013)
Chapter President Bob Hess and LASSAR Board Member John Francois traveled to Baton Rouge to participate in the General Philemon Thomas Chapter annual George Washington Wreath Laying Ceremony held on the ground of the state capital.
---
Joseph S. Rumbaugh Oration Contest Held (February 21, 2013)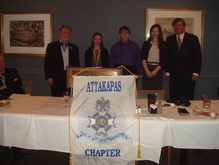 The Attakapas Chapter held their Joseph S. Rumbaugh Oration Contest on February 21st. This contest Contest is open to all students, grades 9-12. This requires an original oration of not less than five minutes or more than six minutes dealing with any event, personality, or document pertaining to the Revolutionary War and show a relationship to America today. Mary Frances Johnson won the chapter competition and will move on to the state competition held on April 6th. The state winner will receive a $500 cash prize and a silver medallion on a neck ribbon. The national winner will receive a gold medallion on a neck ribbon and a cash award of $1,000.

From L to R: Bob Hess, President; Mary Frances Johnson, first place; Parker Andre LeBlanc, 3rd Place; Chassidy Michelle Menard, 2nd place; and Tom Angers, Rumbaugh Oration's Chairman.

---
Local Citizens Recognized For Public Service (January 17, 2013)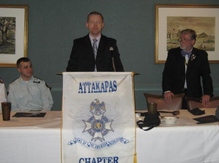 At the January meeting, several members of the community were recognized for their outstanding contributions to the community. Compatriot Frank Stanton Hardee, III received the SAR Law Enforcement Commendation Medal. Mr. Hardee is an Eagle Scout and an Assistant District Attorney in Fifteenth Judicial District of Vermillion Parish. Mr. Alex Durio, a paramedic with Acadian Air Med Services, received the SAR Emergency Medical Services Commendation Medal.

Guest Speaker at the meeting was Compatriot Florent Hardy of the General Philemon Thomas Chapter. Mr. Hardy is the Archivist at the State Archives in Baton Rouge. He discussed the work and book State Archives is preparing as part of the Louisiana Bi-Centennial celebration.

Pictured L-R: Alexis Durio, Frank Stanton Hardee, Chapter President Bob Hess
---
New Officers Inducted (December 20, 2012)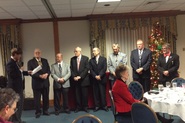 Past Vice President General Tom Jacks installed new officers at the Attakapas Chapter's December meeting. Pictured from Left – Right: Chaplain: Willie Z. Bienvenu, MD; Genealogist: A. Rogers Romero; Treasurer: Clarence H. Bonin, Jr.; Secretary: David V. Maraist, MD; Registrar: John François; Vice Pres: Michael S. O'Brien; President: Robert G. Hess.

The meeting also saw the induction of Michael J. LeBlanc. Michael is a descendant of Simon LeBlanc, who served as a rifleman with the Attakapas militia.

---
U.S. Congressman Speaks To Chapter (October 16, 2012)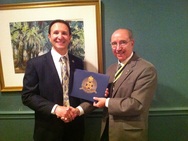 Congressman Landry was the guest speaker at the October meeting of the Attakapas Chapter. Landry told the assembled members and guests some of the important legislation and debates that are happening in Congress, and what he would like to implement in our state regarding the areas of drilling, health care, and other items of importance to the 3rd District and all of Louisiana. Landry is a veteran of the US Army, obtaining the rank of Sergeant. He is a veteran of Operation Desert Storm. He is a member of the National Rifle Association, Ducks Unlimited, the American Bar Association, the Federal Bar Association, National Environmental Professionals, World Billfish Foundation, Knights of Columbus, the American Legion, and the Iberia Parish Republican Executive Committee.

Landry holds a Juris Doctor of Law degree from Loyola University and a Bachelor of Science degree in Environmental and Sustainable Resources with a minor degree in Biology from the University of Southwestern Louisiana and lives with his wife Sharon in New Iberia.
---
State Representative Stephen Ortego Guest Speaker (September 20, 2012)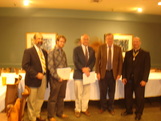 State Representative Stephen Ortego (D-Carencro), who is the youngest serving member of the Louisiana House of Representatives, was the guest speaker at the September 2012 meeting of the Attakapas Chapter. Representative Ortego spoke on the Council for the Development of French in Louisiana (CODOFIL) and its impact on the education system. Also at this meeting, three new members were inducted. They were James Luker Sides, Michael S. O'Brien and William W. Schmid.


---
Noted Historian Speaks on Louisiana Bi-Centennial (May 17, 2012)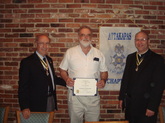 The Attakapas chapter was pleased to welcome Dr. Timothy F. Reilly, Associate Professor of Geography at University of Louisiana at Lafayette. Dr. Reilly spoke about the Louisiana Bi-Centennial and the succession of ownership of the Louisiana Territory prior to the Louisiana Purchase. The chapter also welcomed two new members, James Morton Jennings III and David Lanclos.


---
History
The idea for establishing an SAR chapter in the Lafayette area was conceived in 1957. The then LASSAR president, John St. Paul, requested the help of the Louisiana DAR chapters for increasing the membership of the LASSAR. The local Galvez Chapter, DAR, took on that task as a Special Project. They enlisted the help of the DAR chapters of Acadia, Opelousas, and New Iberia. Each chapter responded by providing the names of their male relatives, complete with application papers.

Formal invitations were then issued to the prospective members to attend a reception on January 11, 1958 in the home of Mr. And Mrs. Charles E. Boudousquie, President St. Paul was present to address the men, explaining the requirements for membership and the activities of the SAR. Thirty-eight men signed the petition that day for a chapter charter. On April 27,1958, the organizational meeting for the formation of the SAR chapter was held in the Civic Room of the First National Bank of Lafayette. Officers were elected, and dues established ($4.00 per year). It was also moved and voted that the chapter be called the Attakapas Chapter. The name Attakapas derives from the tribe of Indians that inhabited the southwestern area of Louisiana principally along the Vermilion, Mermentau, and Calcasieu rivers.

The Attakapas Chapter has had a close relationship with the Galvez Chapter, DAR since the beginning, and in 1959 held the first annual George Washington Ball in Lafayette.