LASSAR Annual Meeting Set For April 5th - 6th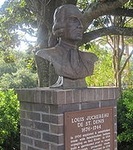 Quaint, romantic, and historic. These are the terms used to describe Natchitoches, Louisiana. It was founded in 1714 by Louis Juchereau de St. Denis as a French outpost on the Red River to facilitate trade. In 2005 The National Trust named Natchitoches one of the "Dozen Distinctive Destinations" for Historic Preservation.
Sitting under the cooling shade of a majestic oak tree, with the warm breeze wafting gently across the lazy brown waters of the Cane River, it is no wonder that historic Natchitoches has been proclaimed to be one of the top five Most Romantic Main Streets by the National Trust for Historic Preservation.
Many of the men of this area serving in Benardo de Galvez's military campaigns against the British during the Revolutionary War are buried in American Cemetery, only half a mile from our meeting site. This cemetery sits on the site of the original location of Fort St. Jean Baptiste. Though church records of the colonial period tell of the burials of numerous Revolutionary War Patriots, only six have been found. A few yards away is the grave of Col Jack, considered the founder of the Louisiana Society, Sons of the American Revolution.
Strewn up and down Second Street and the many side streets such as rue Poete, rue Washington, and rue Jefferson, visitors can stay at one of many Bed & Breakfasts, including some that were featured in the blockbuster movie Steel Magnolias. Natchitoches parish was also where John Wayne's Horse Soldiers was filmed.
Beautiful Oakland Plantation was the home of Patriot Jean Pierre Emmanuel Prudhomme and serves as headquarters for the Creole national Historic Park. Melrose Plantation, 16 miles south of town, was built by the descendants of Patriot Claude Metoyer and was home of well know folk artist Clementine Hunter.
For more information on our town, visit
www.caneriverheritage.org
www.natchitoches.net
Click
HERE
to open the LASSAR 2013 Annual Meeting Reservation Form.
---